How to Print Your Own Plastic Membership Cards
Nov 15th 2022

The Benefits of Plastic Membership Card Printing
Printing custom membership cards can add a tremendous amount of value to your club, organization, non-profit, or association.
While some companies have decided to move to digital cards, physical membership cards tend to increase member loyalty by bringing an added level of exclusivity and a sense of belonging.
If the membership cards are personalized with the member's name, they are very rarely discarded. Cards are often stored in the member's wallet which serves as a tangible tool to keep your organization top of mind.
Custom membership cards can be used to gain access to a venue, list member perks, serve as a thank you for a contribution, or simply add something tangible to your organization to represent the value of their membership.
It's easy to see why you need custom membership cards. Figuring out how to get them printed and personalized for each member is an entirely different challenge.
Where to Start with Plastic Membership Card Printing
Start by determining what should get printed on your plastic membership cards. This will typically include your logo, contact information, the member's name, and their member ID or account number.
In some instances, there is only one type of membership for an organization but many times there are different types of memberships which is often reflected on the printed card. For example, some organizations offer tiered member programs like gold, silver, and platinum. Others offer annual memberships which expire at the end of the calendar or fiscal year.
There are also VIP or lifetime membership opportunities offered by some groups which are achieved at a certain level of donation or amount of time belonging to an organization.
Give the member types some thought when planning your membership card printing.
You may want to designate the member type as a line of text on your card like "GOLD MEMBER" or have different card designs with different background colors to represent each type. For example, cards for "gold" members have a gold background, silver members have a silver background, and so on.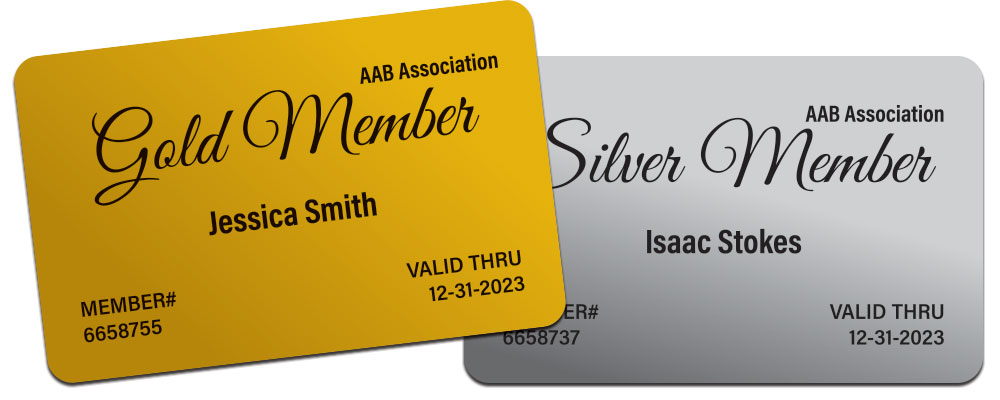 Save the Date
Dates are something else to think about when it comes to plastic membership card printing. Will the card expire? If so, the expiration date or "Valid Thru" date should be listed on the card. It can be showcased on the front of the card or listed in the fine print on the back.
Another popular technique is to add "Member Since" to the front of the card with the year the member joined your organization. If this information is readily available to you, it could be a nice addition to your membership card - especially if many of the members have been with you for several years.
What Goes on the Back?
The back of the card is often overlooked but this can be valuable real estate for your club, organization, non-profit, or association. You may want to keep it simple with basic contact information or something more elaborate with membership terms, perks, or benefits.
Keep in mind that once a card is printed, it's set in stone so to speak. If any of the perks, terms, or benefits change frequently, you may want to list a web page containing this information. For example, you could add a line of text that says. "For complete membership terms and benefits, visit www.myassociation.com/member-terms". You could then update the information on that web page at a later date - even after the cards are printed and distributed.
Want to get even fancier? Think about incorporating a QR code on your card. QR codes are really just a special kind of barcode that can link to a web page, video, or document. Anyone with a smartphone can simply open up their camera app and point to the QR code and be taken to the special page without typing in a long web URL.
How to Print Plastic Membership cards
You've decided that you need membership cards and know what you'd like on them. Now how do you get them printed? There are 3 ways you can go about this ranging from DIY to full service solutions.
Option 1 - DIY Plastic Membership Cards
Unlike paper cards, it is not possible to print plastic cards using a regular inkjet or laser printer. You must purchase a plastic card printer. The top brands of card printers include Datacard, Evolis, Fargo / HID, Magicard, and Zebra. The entry-level cost for one of these printers starts around $1,500 and can climb to well over $5,000+ depending on the options selected.
If you plan to print the cards yourself, the Evolis Primacy is a great place to start. Once you've purchased your printer, don't forget to stock up on thermal ribbons (the type of ink used) and blank plastic cards. You can choose from standard white plastic cards or something more sophisticated like metallic gold or silver.
Pros: The advantage of this option is that you can print cards on-demand.
Cons: A decent investment in equipment and supplies is required and the quality isn't always as good as professionally printed cards. There is a bit of a learning curve to master the software and data merge required to print unique membership information on each card.
Option 2 - Professionally Printed Plastic Cards
If your cards are ordered all at once, it may be more cost-effective to order them from a professional printing company like Print Robot. They even offer free design services on most orders so you can simply provide them with your logo and an idea of what you'd like and they'll take care of the rest. You would provide them with an Excel or .csv data file containing your member information and they personalize each card for you in a single batch.
Pros: The advantage of this option is that your cards are professionally printed and it includes free design services. There is no upfront equipment or consumables to be purchased.
Cons: All of the cards are printed in a single batch which means if you have members that trickle in throughout the year, they won't get a card until the next large batch is ordered. The minimum quantity for a new batch is 100 cards.
Option 3 - Professionally Printed Plastic Card Shells with On-Demand Personalization
The most flexible option would be to purchase professionally printed card shells. This is another option offered by Print Robot which also includes professional graphic design services. They will print everything but the member information on the cards and store them on a shelf until they are needed. You can then supply your Excel or .csv data file on a quarterly, monthly, or weekly basis and your membership cards will be personalized on-demand.
You can have the cards shipped to you or add fulfillment services which includes printing a letter, adhering the membership card via glue dot and mailing each card directly to the member.
Pros: The advantage of this option is that your cards are professionally printed and it includes free design services with on-demand personalization of your membership cards. Adding fulfillment services makes this a full-service solution.
Cons: This option is a bit more expensive than professionally printed cards without on-demand personalization but when you factor in the time saved by your organization, it typically pays for itself.
Looking to order Blank Plastic Cards?
Click here for instant pricing or request a quote on a plastic card printer.
Prefer to order Printed Membership Cards?
Click here to get started with free design services from Print Robot.